PASSION FLOWER
concert series
American Art Songs
by Ives, Bowles, Bolcom, Price, Strayhorn, Ellington
Rebecca Shrimpton (mezzo soprano) & Herman Weiss (piano)
Classical mezzo soprano & jazz vocalist, Rebecca Shrimpton, and pianist & composer, Herman Weiss, present art songs inspired by American popular music, including works by Charles Ives, William Bolcom, Florence Price, and Paul Bowles, interwoven with the exquisite, classically influenced "tone poems" of jazz masters, Billy Strayhorn and Duke Ellington.
Current dates:
March 24 Private Venue, Nahant
March 25 First Baptist Church of Medford, 7:30pm
April 16 Quincy Point Congregational Church, 1:30pm
May 21 Weston Public Library, 3 pm


Program repertoire:
Paul Bowles' "Blue Mountain Ballads":
Heavenly Grass
Lonesome Man
Cabin
Sugar in the Cane
Charles Ives:
Things Our Fathers Loved
At the River
General William Booth Enters Into Heaven
Memories

Florence Price:
Because
Monologue for the Working Class
Bewilderment
William Grant Still: Grief
Charles S. Brown: Song Without Words
William Bolcom's "Cabaret Songs":
Blue
Black Max
Waitin'
Radical Sally
Billy Strayhorn:
A Flower Is a Lovesome Thing, arr Herman Weiss
Passion Flower/Fleurette Africaine (Ellington), lyrics Rebecca Shrimpton, arr. Herman Weiss
Duke Ellington: T.G.T.T.
George Russell arr.: All the Things You Are (Kern)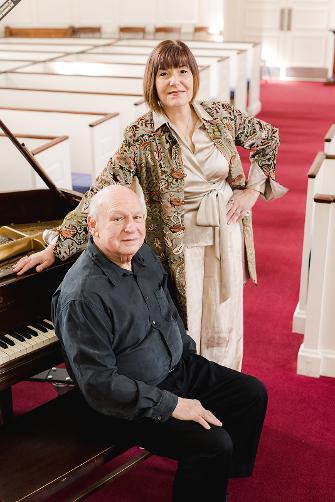 Herman Weiss is an internationally renowned pianist, composer, conductor, and organist. He is co-founder of two chamber music societies and created a Master of Music program in composition at the Longy School of Music at Bard College, where he chaired the department of composition for twelve years. He co-founded the Composers in Red Sneakers and also founded two chamber music societies, one in Cambridge, MA and the other in Europe. Herman has a PhD in music composition from Brandeis University and studied composition and organ in Paris at Conservatoire National on a Fulbright Fellowship with Olivier Messaien. He also studied composition, piano and conducting at New England Conservatory. His music is published by APNM (BMI) and it is recorded on Northeastern Records.